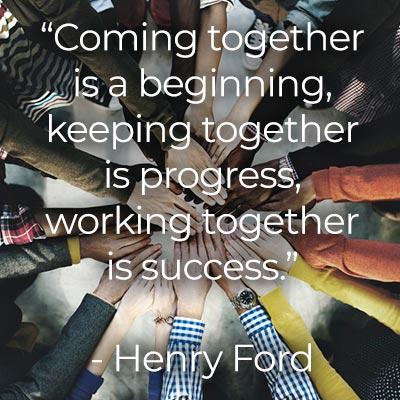 Henry Ford Quote
Success: Working Together
Success stories are everywhere. From sports to business, from scientific discoveries to incredible life achievements, success surrounds us. One of the common themes of almost every success story is teamwork. Athletes have teams of people surrounding them, business ventures employ teams of people, and scientists today collaborate around the world via the internet.
Coming together is a beginning, keeping together is progress, working together is success.
This quote by Henry Ford is One Stone Web's map to success. When we have our initial contact with a potential client, it is the beginning. It is where we begin to understand our client's vision, passion, and mission. We love talking with them and hearing their stories. Stories that have led them to start a new venture. Stories of both failures and successes.
Keeping on the same page throughout the process is progress. Through design concepts, website layout, and content creation, we progress through the process together until our client is happy and the website meets their approval and fulfills their vision.
Once we launch a website, it is a success. However, for us, success is defined in maintaining that relationship moving forward as the new venture continues. Our clients are our success. Maintaining, tweaking, changing, and creating content together is our success.
If you are looking to define or re-define your meaning of success, get together with a group of trusted people, stay together and progress toward the common goal, and stay together and celebrate success. Henry Ford, the man who invented the assembly line, and whose company has built over 4 million vehicles, probably knows the definition of success.
To see how we can help you succeed with any of your website needs, visit us at https://onestoneweb.com, contact us at This email address is being protected from spambots. You need JavaScript enabled to view it., or call us at 815-213-2479.

One Stone Web is a Tucson, AZ web design company that strives to develop brilliant websites for our clients throughout the U.S. Our desire is to deliver a professional service with the personal care our clients deserve so that we deliver a custom website that exceeds their expectations. All of our work is done right here in the USA.