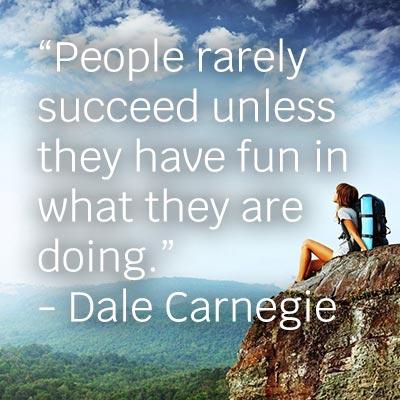 Quote by Dale Carnegie
Do What You Love, Love What You Do
Here at One Stone Web, we love what we do simply because we are doing what we love! And we have fun along the way. This is one of advantages of creating your own business or simply having your own website.
Do we love building websites? Yes! But there is one thing we love more than building websites.
We love helping our clients make their website dreams come true.
This is where the fun starts. Whether we are working with a client starting a new venture, upgrading, updating, or rebuilding a website, we love helping people succeed. Making a client's dream come true, is our goal.
When people call us, they are typically passionate and excited about what they are doing. Most often they need to focus and they need help getting their excitement organized into a tangible website. This is what we specialize in – working with clients to make those dreams come true on the internet. This is what drives us to be better at what we do. One of the mantras we have here at One Stone Web is, "Try to never say no, rather, say let's find a way."
Our motto is, "Web Design With Peace Of Mind". One of the things that makes the possible, is the fun we have along the journey with every one of our clients.
Our thought for the day:
If you are struggling with finding success, take a step back, set aside some time, and find a way to have fun with what you are doing. From our experience, we can definitely assure you that it will help you change your perspective, reinvigorate you, give you a renewed passion, and get you back on the road to success.
To see how we can help you with any of your website needs, visit us at https://onestoneweb.com, contact us at This email address is being protected from spambots. You need JavaScript enabled to view it., or call us at 815-213-2479.

One Stone Web is a Tucson, AZ web design company that strives to develop brilliant websites for our clients throughout the U.S. Our desire is to deliver a professional service with the personal care our clients deserve so that we deliver a custom website that exceeds their expectations. All of our work is done right here in the USA.